Tim was asked to re-invent the seating area of this lovely old town garden.
Simple but effective changes have re-invigorated the whole garden.
Tim planted up this waterside roof garden to tolerate the extremes of wind and exposure experienced in this setting, whilst maintaining the modern aesthetic of the space.
The owners of this large garden approached Tim to add more planted areas to a space dominated by straight edges and a large lawn.
After creating wildflower borders, Tim then added further curved beds to soften and enhance the space.
Tim received a bronze medal for his garden at the Malvern Spring Festival in May 2017, in which he aimed to present the garden as a place of contemplation and meditation.
To add colour and interest to a neglected garden, Tim re-shaped the borders, planted with flowering perennials, and added a vegetable bed.
With a limited budget, Tim was able to create a meandering and charming space by re-using the materials found in this city garden, re-locating mature plants and trees to produce an informal and original space with a hidden nook for peace and privacy.
Le Manoir aux Quat' Saisons
This high profile project was commissioned by Raymond Blanc and designed by Anne Keenan MSGD. Tim and his team were commissioned by Martin Shaw to implement the chestnut screens, which were an attractive feature of the redesign of this heritage garden.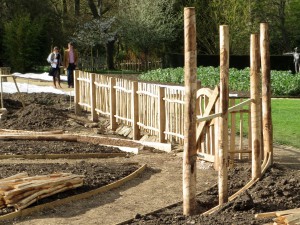 Trereife House, Cornwall
Tim managed the public gardens here for over four years. His particular project was to redesign and develop the walled garden.
A Rock Garden
This garden was reclaimed from a thicket of blackthorn and brambles and transformed into a serene and tranquil vantage point, demonstrating the full potential of a steep and previously hostile piece of land.
A Wild Garden
This was a 'blank canvas' design of a Cornish field adjoining an established garden. By creating swathes of native hedging, a wildlife pond and pathways Tim was able to integrate these spaces enhancing the scale and extending interest and intimacy of the original garden